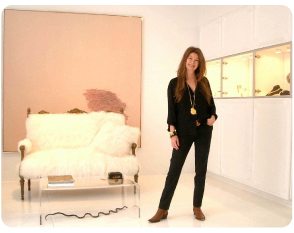 Kimberly Klosterman, who began her career in the art and antiques business over 30 years ago, now concentrates solely on her passion – Jewelry.
"I've always loved unusual pieces, as a collector, I have focused mainly on jewelry that is wearable but unique – and always indicative of the period in which it was produced."
This philosophy has become a signature for Klosterman whose business specializes in 20th century American and European jewelry. She is especially fond of designer jewels from the 1960's and 70's.
"I think these pieces go very well with the cut of todays clothing, Gucci, Prada, YSL – all look great with a big ring or a designer necklace." But Klosterman does not over-look more conservative styles and loves a whimsical brooch for a suit. "A great brooch can make a quiet suit shout."
Her clients are as varied as her jewels. They range from the rich and famous to the passionate collector. Although she travels extensively to buy and sell she admits the internet has become an important part of globalizing her business.
Shipping: Free shipping for all purchases made in the USA. All items are shipped insured for the full value via the US Post Office, registered and insured, express mail or Fed-Ex. If another form of shipping is preferred please contact us, we are always happy to assist. Prices for shipping outside of the USA will be on a per quote bases.
Guarantee: We guarantee all items are as described. All diamond and gemstone weights are estimated unless otherwise indicated. The grading of diamond color and clarity is our opinion based upon the examination of the stone as far as mounting permits. We provide gold weight, karat, and size of the piece. Any excessive wear or replacements will be detailed.
Return Policy: We offer a full refund if the item is returned to us, in the manner in which it was received, within 7 days.